More and more patients are now choosing to get their prescription from an online dispensary rather than their local pharmacy, which is having a detrimental effect on local pharmacy, even though online pharmacies offer a more limited overall health service.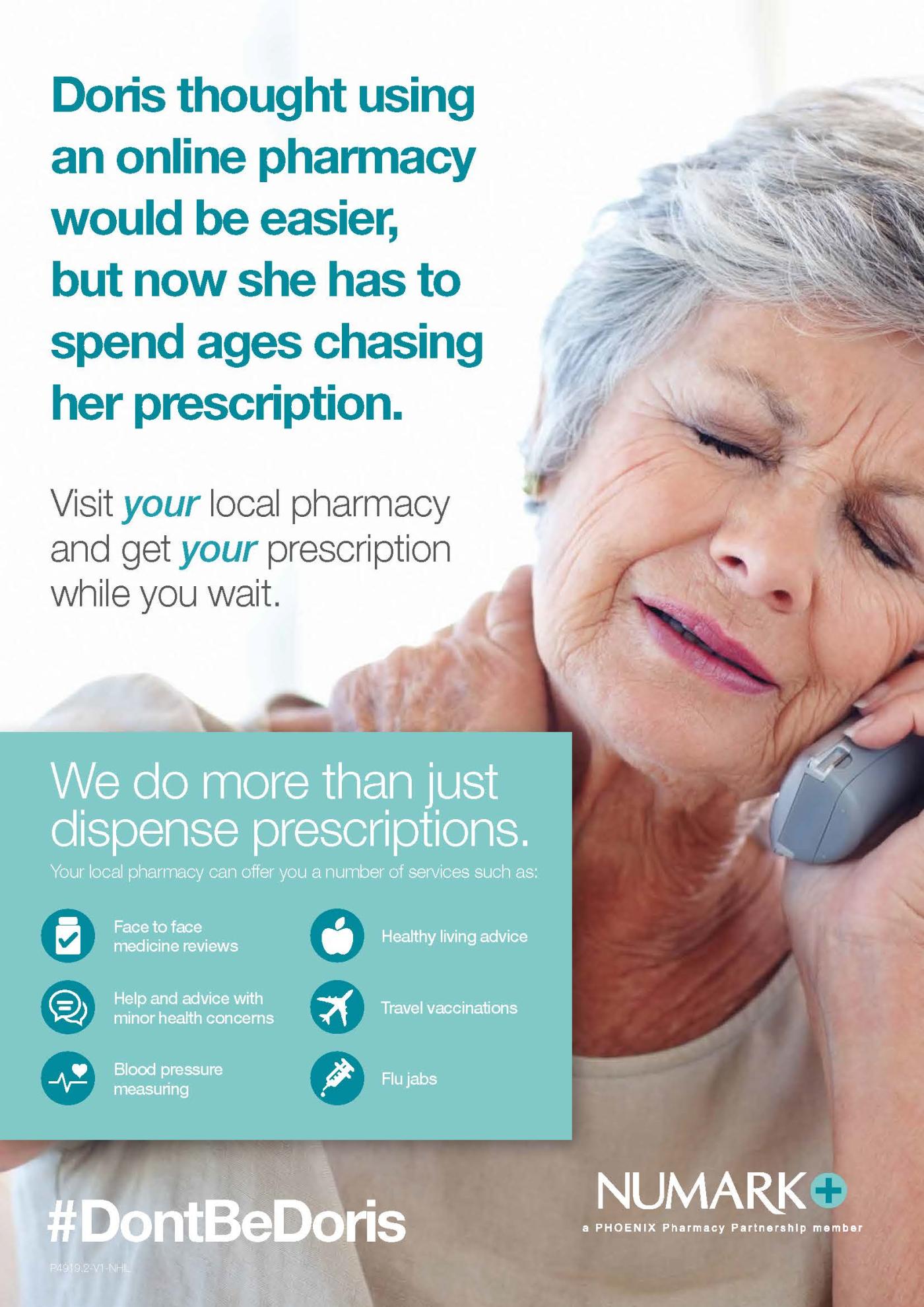 Patients might think getting their prescription online is an easier option, especially in the current digital climate where there's an expectation to have everything readily available at the click of a button. But by doing so they are missing out on everything else their local pharmacy can offer them. From being greeted with a smile when they walk in, to being given advice on their medication or getting their flu vaccination, local pharmacy offers so much more than just a prescription.
Online pharmacies do offer patients an alternative option in how they receive their prescriptions, and can be convenient for those who don't have an urgent ailment or want the added discretion. However, for patients who have complex conditions, or want advice on a health concern, local pharmacy is vital in providing the face-to-face healthcare they may need. Losing this might not always be taken into consideration when people decide to switch, so it's important to highlight the pros and cons of both options to allow them to decide which offers them the most suitable service.
Whilst you will know all the benefits your pharmacy can offer compared to an online service, your patients might not, so it's important to remind them that their local pharmacy has so much more to offer than just prescriptions.
We know how important local pharmacy is to patients and communities as a whole – make sure you're standing out from the competition and continuing to give your patients the best service.
The campaign posters are also available for you to download and print, as well as a selection of social media images for you to download and use.
Download the campaign materials
Running a health campaign with an attractive display of information will not only catch your customers' eye, but it also works as a good conversation starter; if you're running a Stop Smoking campaign and spot a customer looking at it, you can ask them if they or a loved one is looking to quit and offer further advice.  We have a calendar of health awareness dates running through the year, as well as a range of resources to help you run a successful campaign.
Whether it's for flu or travel, vaccination services are not only a great source of income for your pharmacy, but they're a valuable service to customers. As well as displaying information about the services, ask patients if they need their flu vaccine this season, or if you have a customer buying suncream, ask if they're going on holiday and if they need any vaccinations. 
Promote your vaccination services 
Every month we produce a range of OTC promotions that you can find in the WholeSale magazine. Make sure your offers are well-displayed so customers will take advantage of them and remember your pharmacy is a place they can get a good deal on products.
Your team is the best asset you have in providing patients a better service than online pharmacies. An online pharmacy cannot ask a patient if they're happy with their medication, or offer advice on a minor health concern. Keep your team up to date on training to ensure you're always providing the best possible service.
Keep your team up to date on their training